Welcoming Seeds Home
Seed Savers Exchange (SSE) was founded in 1975 by Kent Whealy and Diane Ott Whealy as a network of gardeners interested in preserving and sharing heirloom varieties. As the organization grew, individuals began to donate their treasured seeds for preservation, resulting in a collection of over 20,000 open-pollinated varieties. With culturally diverse stewardship histories, this open-access collection represents America's rich garden heritage.
Today, we recognize the value of the stories and relationships behind the seeds in protecting this diversity as much as we value the seeds themselves. As part of the revitalization of Indigenous native food systems, many native communities are also developing vibrant seed initiatives to increase access to cultural and traditional healthy foods.
In 2017, Rowen White, then SSE board chair, approached Seed Savers Exchange to participate in the Indigenous Seed Keepers Network Seed Rematriation program. Seed rematriation addresses the desire for Indigenous communities to actively reclaim their ancestral seeds and traditions. Seed Savers Exchange, with grants from North Central Region Sustainable Agriculture Research and Education (NCR-SARE), has actively supported Indigenous communities by rematriating seeds in the SSE collection back to their cultures of origin with the goal of practicing sustainable, sovereign, and environmentally and socially responsible agriculture. 
Watch the Welcoming Seeds Home: Seed Rematriation Webinar Series on SSE's YouTube channel.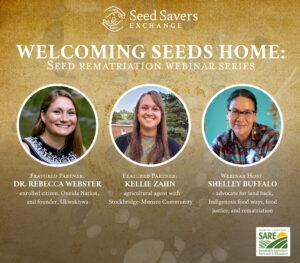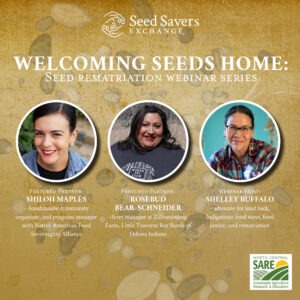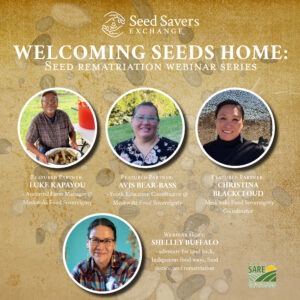 How the work continues
In 2023, Seed Savers Exchange, once again thanks to support from NCR-SARE, continues the rematriation partnerships focusing on orchard establishment and care.